Clinic Manager, Central Health Physiotherapy
Based our St John's Wood clinic, Chris manages the musculoskeletal outpatient team.
Specialisation
Chris sees a wide range of musculoskeletal problems but has a special interest in spinal problems, especially persistent Low Back Pain.
He has links with consultant orthopaedic spinal surgeons throughout North West London.
Other Experience
NHS and private sector
Academy of football at West Ham United FC
Part- time lecturer and examiner at Oxford Brooks University
Clinically supervised undergraduate and graduate students
Education
BSc, University of Bath, 1997
MSc, School of Health and Human Performance, University College London
---
---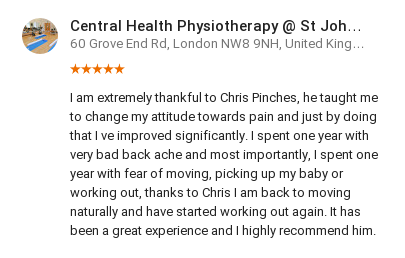 Blog Posts By Chris
Physiotherapists
All of the physiotherapists at Central Health Physiotherapy are members of The Chartered Society of Physiotherapy and registered with The Health Professions Council. With approximately 60 staff, Central Health Physiotherapy has a substantial base of experience and encourages the exchange of knowledge and ideas. Physiotherapists are available to ensure service cover 52 weeks of the year. The Occupational Therapists are all state registered and members of The Health Professions Council.