Knee Pain & Injuries
Knee pain affects millions of people every day and can cause considerable pain and disability. Our expert Physios have years of experience treating knee pain, and can help both in getting to the route cause of your symptoms and in rehabilitating your knee.
The knee is a hinge joint between the femur (thigh bone), the tibia (shin bone) and the patella (knee cap). There are four main ligaments supporting the knee joint; the anterior and posterior cruciate ligaments and the medial and the lateral collateral ligaments.
Unique to the knee joint, are the mensci. These are crescent shaped pieces of cartilage which are attached to the tibia and are present in addition to the articular cartilage on the femur and the tibia. The mensci act as shock absorbers and provide additional stability to the knee joint.
There are multiple muscle groups involved in dynamic control and function at the knee joint. The quadriceps (thigh) muscles play a big role. This muscle group includes the rectus femoris, vastis medialis, vastis lateralis and vastis intermedius; all muscles work together to straighten the knee. The quadriceps originate at the front of the hip and the upper part of the thigh and attach to the tibia via the patella tendon. The hamstrings are the primary muscles that bend the knee. The three hamstring muscles are; the semimembranosus, semitendinosis and biceps femoris. All three muscles originate from the ischial tuberosity (sitting bone) of the pelvis, run down the thigh to attach below the knee to the tibia and the fibula.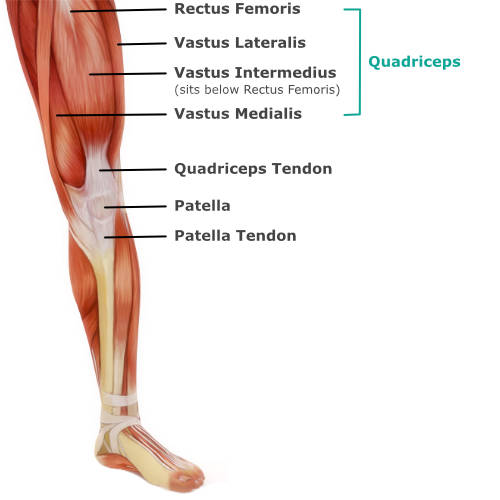 Common Conditions
Causes of pain vary from simple to complex ligament injuries, cartilage injuries and arthritis.
How We Can Help You
A thorough examination comprised of specific questions and physical tests can help to diagnose the cause of your knee pain. A treatment plan would then be discussed and implemented, to help you towards being pain free and get you back to performing your desired activities. A fundamental part of the treatment plan is explaining the cause of pain and ways to manage it.
Treatment could include hands-on therapy (joint mobilisation/soft tissue massage), a programme of stretches or strength based exercises, Taping, Acupuncture, Ultrasound or perhaps Shockwave Therapy (if appropriate).
If further investigations such as MRI, Ultrasound scan, blood tests or X-rays are required, our Physiotherapists can point you in the right direction. If the Physiotherapist feels you need to see another health professional (such as an Orthopaedic Consultant or Rheumatologist), they will ensure you see the right person via our vast network and close links with consultants.
So, if you have been struggling recently with knee pain, click here to contact us so we can help you get better!
Contact Us Now
Contact us now to discuss your needs with our friendly team
and find out how we can help you return to fitness!