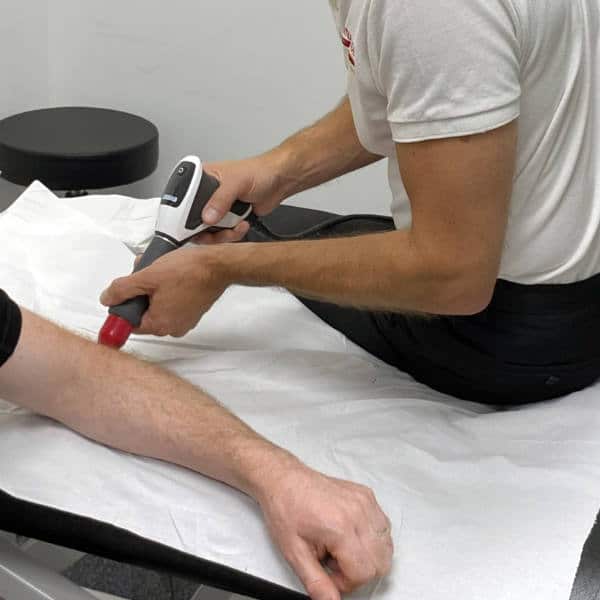 What is shockwave therapy?
Shockwave therapy, also known as Extracorporal Shockwave Therapy (ESWT) is a form of therapy that utilises sound waves to send a shock through soft tissues. The machine generates pressure which fires a 'bullet' in the barrel of a hand held applicator. As the bullet strikes the surface of the head at the end of the applicator it generates a shockwave. The frequency and intensity of this shockwave can be controlled via the machine. The 'focus' of the subsequent output (shockwave) can also be controlled by the shape of the head used on the machine. This allows the therapist to target the treatment to tissues at different depths in the body.
What is shockwave therapy used for?
Shockwave therapy can be used to treat different joint, muscle, tendon or ligament problems. There is increasing evidence that it can be effective in treating particularly tendon problems. Some of the conditions it can be used effectively to treat are:
How long does it take for shockwave therapy to work?
Like most treatments results can vary person to person and dependant on the condition being treated. Some people see immediate reductions in pain after just one session. Most people will see a significant decrease in pain symptoms within 3 sessions.
How often should you do shockwave therapy?
Shockwave therapy should be administered every 7-10 days during a programme of treatment. For best results we usually recommend a course of treatment. This can be any where between 3 and 10 sessions, depending on the problem. Our physio's can advise you on how much treatment you are likely to need.
How much does shockwave therapy cost?
This can depend on where you are and who is administering the treatment. Shockwave therapy London prices can be slightly higher than if you are recieving treatment elsewhere in the country. At Central Health we charge between £90 and £110 per treatment depending on how many sessions you purchase.
Is shockwave therapy painful?
The treatment itself can be a little painful. As the body parts being treated are often painful then obviously applying a treatment that mechanically stresses them will be initially sore. BUT…. this is one of the reasons why shockwave is so effective for the treatment of pain. One of the effects of the treatment is that it reduces the mechanical sensitivity of the nerves in the area resulting in a 'numbness' to the pain symptoms.
How do you feel after shockwave therapy?
Again immediate reactions can vary. Some clients have reported feeling a little sore. Conversely some clients have reported feeling quite euphoric and have an immediately reduced perception of pain. You will likely be advised to abstain from stressful exercise for 48 hours post treatment. The physio treating you will be able to advise on how you continue to fit your exercises in around your treatment.
Shockwave therapy recovery time?
Most clients report some tenderness from the treatment in the first 48 hours. Especially after the initial treatment. This is why we recommed you rest and avoid impactful activities on the treated area for atleast 48 hours. This is to allow nature to do it's work and help give the body space, and time, to recover from what is essentially a 'traumatic' treatment. Some clients can report lesser reactions from subsequent treatments but this is not always the case. Your treating physio can give you advice on when to go back to your training or exercise programme.
In Summary – What is shockwave therapy good for?
Shockwave is a safe, non-invasive, evidence based treatment that can be useful in treating stubborn, painful tendon, muscle, or ligament problems. It has a high succes rate in giving clients significant pain relief. Is easy, quick and relatively cheap to obtain as a client. It has few side effects and clients generally recover quickly after a session. If it's something you think may be beneficial for you then you can book below or if you'd like some further information then explore our shockwave therapy page.