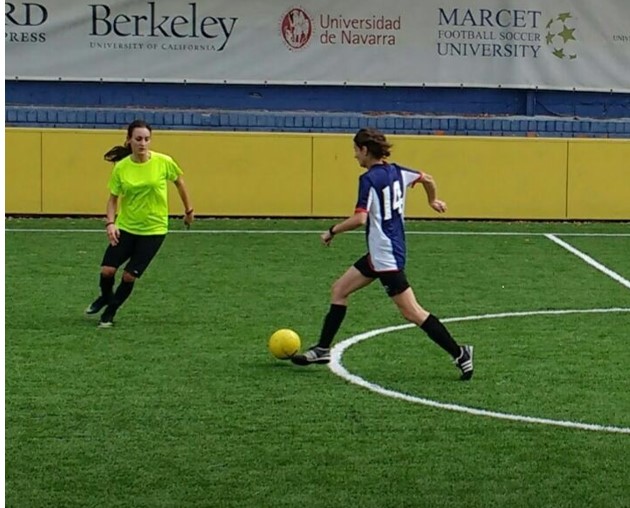 Playing social football on and off for years, I can see that the process of warming up varies hugely from team to team. For some it's a few laps around the pitch and some include the odd static hamstrings and quads stretches.  Others take it more seriously with pre-planned running and football drills (some are detailed below).
I know that half of my team turns up 30 seconds before the game and off they go!
So, with all this variety, is warming up that important? Does it make a difference to injury rate or performance?
There is certainly good evidence supporting warming up before taking part in sport. Over many years, research has shown the benefits for reducing injury rates and improving sport performance (please see the references at the bottom of this blog if you're interested in the research!).
A good warm up helps to prepare your mind and body for the increased demands of exercise. Warming up:
Raises your body temperature. Warm muscles absorb shock better and are more elastic, therefore helping to reduce injury rate
Prepares your cardiovascular system (heart, lungs and blood vessels), gradually increasing circulation, preventing a rapid increase in blood pressure and helping to distribute oxygen and nutrients more effectively
Triggers processes in the body such as sweating and increased breathing rate which prevent you overheating during the game
Puts your head in the game! It gets your brain switched on to the upcoming task
Wakes up your nerve pathways (the messages from your brain to your muscles) for the specific movements required in a game
Improves coordination and reaction times – you're more likely to get that shot on target! It should raise your heart rate and warm you up without making you too tired for the game ahead. Ideally, you've built up a light sweat and increased your breathing rate
A good warm up will include:
Increasing core temperature with jogging / side stepping at progressively faster speeds
Dynamic movements which take joints through the full ranges required for the sport
Skills from the sporting activity – for football, this is where you'd bring the ball in (It can be swapped for a bat or stick depending on your sport of choice) Practising shooting, passing, dribbling, and change of direction drills. As the warm up progresses make the distances the ball is passed gradually bigger.
Finally running drills at speed which include cutting and rapid change of direction.
There is a range of exercises and drills that can be used to make an effective warm up. If you're stuck for ideas you can use an evidence-based programme designed by FIFA (The  international governing body of association football, futsal and beach soccer). The programme is called 11+  (click for more information) and can be used in two ways:
The entire programme can be completed before training sessions which includes strength and conditioning for all major muscle groups as well as core exercises, and running drills. The aim of this is to condition your body for regular competitive exercise, ensuring you have the background strength and control to participate.
Parts 1 and 3 of the programme can be used prior to a game as the pre-game warm up. Use this in addition to some passing / shooting drills and you've got a complete warm up programme.
Here are some specific exercises to get you warm for your next game:
Running drills – progressively faster forwards and backwards across the pitch.
Walking lunges: Trunk upright, front knee behind toes, alternate legs.
Squats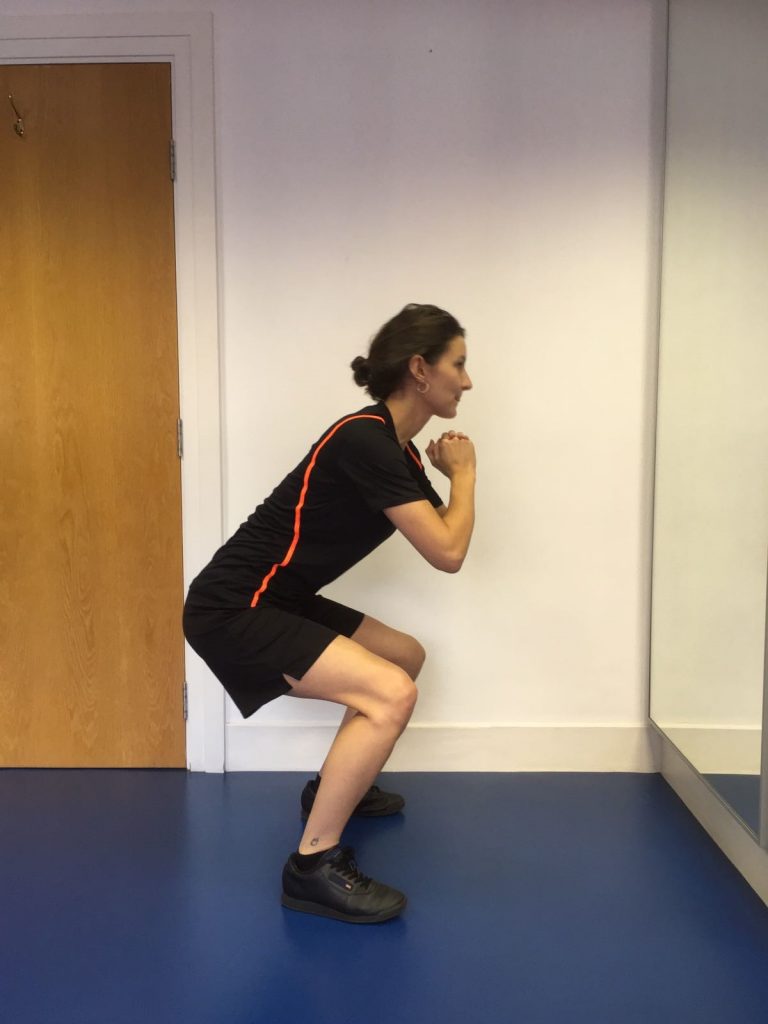 ---
Vertical jumps: Squat position, jump up, land back in squat position. Repeat.
Lateral Jumps: Squat position, jump up and to the side, land in squat position. Repeat.
On the spot 'running man': Elevate opposite arm and leg with good control of pelvis. Slow, controlled movements to start with, progressively faster until you are running on the spot with knee to hip height, alternating arms and legs.
---
Running hip turn outs: jog, stop, raise on knee up and rotate leg out to the side as shown in picture.
Running hip turn ins: jog forwards, raise your knee out to the side, rotate leg inwards and place foot back down
---
Sprinting drills: Progressively faster sprinting drills.
---
Change of directions drills: Run from one position to another, at progressively faster speeds, sudden change of direction forwards/backwards/diagonally.
---
Change of direction drills around a partner: Stay low and move quickly around a partner.
---
Don't forget passing, dribbling and change of direction drills with a ball!
---
References
Brito J, Figueiredo P, Fernandes L, et al. Isokinetic strength effects of FIFA's "The 11+" injury prevention training programme. Isokinetics Exerc Sci 2010;18:211–15
Engebretsen AH, Myklebust G, Holme I, et al. Prevention of injuries among male soccer players: a prospective, randomized intervention study targeting players with previous injuries or reduced function. Am J Sports Med 2008;36:1052–60
Fernandes, A., da Silva, C., Teoldo da Costa, I., and  Marins, J. The "FIFA 11+" warm-up programme for preventing injuries in soccer players: a systematic review  2015:Fisioter. mov. vol.28 no.2 
FIFA 11+, 2011. Website: http://f-marc.com/11plus/manual/
Gatterer H, Ruedl G, Faulhaber M, et al. Effects of the performance level and the FIFA "11" injury prevention program on the injury rate in Italian male amateur soccer players. J Sports Med Phys Fitness 2012;52:80–4
Herman, K., Barton, C., Malliara, P., & Morrissey, D. The effectiveness of neuromuscular warm-up strategies, that require no additional equipment, for preventing lower limb injuries during sports participation: a systematic review. BMC Medicine201210:75
Hagglund M, Walden M, Ekstrand J. Lower reinjury rate with a coach-controlled rehabilitation program in amateur male soccer: a randomized controlled trial. Am J Sports Med 2007;35:1433–42
Junge A, Rosch D, Peterson L, et al. Prevention of soccer injuries: a prospective intervention study in youth amateur players. Am J Sports Med 2002;30:652–9
Soligard T, Myklebust G, Steffen K, et al. Comprehensive warm-up programme to prevent injuries in young female footballers: cluster randomised controlled trial. BMJ 2008;337:a2469