Tips for keeping fit when you can't make it to the gym
Time is precious as we all know and trying to make time to exercise is sometimes hard as well as working and fitting in family/social activities. At Central Health we understand the difficulties; whether it's because you're working longer hours, have children and there's less time in the day for you, or because your commute is long, you've just got out of the habit or all of the above.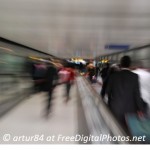 I used to have the luxury of commuting by running or cycling to and from work, thereby incorporating some exercise in to my day.  Now, having moved out of London I now have a 15 hours weekly commute where I sit on a train and tube, so I try to incorporate of few of these top tips for keeping fit into my working week.  Not always successfully I might add!!
Here are a few of my top tips to try to maintain or improve fitness:
1) Walk up and down escalators, this burns 10 and respectively 4 calories per minute.
2) Pelvic floor exercises whilst sitting on tube/train. Standing up on public transport without holding on can challenge your core stability muscles.
---
3) Get off the bus a stop or two earlier and walk the final distance to work. You'll burn 6 calories for every minute you walk.
4) If you want more of a challenge than walking, try to run from the train station to work rather
than using the tube.
5) Make the most of spring time and use Boris bikes – always wear a helmet!
6) Sit on a gym ball at work or at home – try to maintain a good posture, this will work your core and abdominal muscles and lead to a flatter stomach.
7) Go for a walk at lunch time. Encourage a colleague to join you to keep you motivated. If you are pushed for time then make regular walks to and from the water fountain rather than keeping a bottle of water on your desk.
8) Try sitting to standing x 10 from a chair every half an hour, good to build quad and gluteal strength, improve circulation and reduce back pain.
9) Perform squats, lunges or heel raises whilst brushing your teeth or waiting for the kettle to boil.
10) Perform tricep dips off the sofa or press ups during advert breaks.
Just a few little changes during your day can make a huge difference to your fitness and calorie burn. If you would like a more guided approach then we have lower body strengthening classes, Personal Trainers and Pilates classes at our clinics across London.  Good luck and stay active!