Summer holidays are here and inspiration is high after watching a fortnight of Wimbledon but get prepared before donning those tennis whites and hitting that first forehand!
Tennis is fantastic exercise that can be played all year round but unfortunately for many it is only for a few weeks or months in the summer. It is a full body, high demanding sport so if you are unprepared you are at risk of picking up an injury.
Here are five quick tips to help you keep injury and painfree all the year round while playing this fun sport.
1. Prevent blisters by checking the racket grip isn't too old or worn.
2. Make sure when you grip , you are able to fit the index finger of your non-hitting hand between your fingers and your palm. If you can't, it's too small and you need an overgrip. If there's extra space, your grip is too large. Gaps either too small or too large can lead to over gripping which can cause tennis elbow or other pains in the arm.
Get a good, supportive, tennis-specific shoe with lateral support (not a running trainer) to ensure you have good foot control when rapidly changing direction across the court. Otherwise ankle sprains are often a common consequence.
4. Make sure your body is fit and physically prepared before hitting the courts. Try to spend 4-6 weeks strengthening the legs and trunk to make sure you can deal with the high velocity movements involved and to take the pressure off the lower back, shoulders and arms.
5. Warm up thoroughly before hitting any balls. Try some jogging and sidestepping for 3 minutes to increase your heart rate and get the muscles activated. Also dynamic stretches and full body movements will allow the body to acclimatise before over-reaching for that wide ball and causing pain in your lower back or groins.
If you are unsure how to prepare yourself for the court then our strength and conditioning classes could be the ideal way for you to learn how to train in the right way for tennis. One of our physios can design you an exercise programme specific to your tennis level and goals.
At CHP we are lucky to have Sean Seymour-Cole, an ex ATP Pro from 1987-1994, reaching No5 in GB in 1993 and competing at The French Open & Wimbledon. Along with Gemma Newell, who played at National level as a junior and is a DCA coach. So, if you have a tennis related injury there is nothing better than one of our expert MSK physios that can hit a good ball too!
NEW SERVICES
Central Health Physiotherapy Respiratory Service
The Central Health Respiratory Physiotherapy is now up and running. There are 3 clinics a week plus pulmonary rehabilitation classes twice a week. Patients with any chronic lung conditions causing shortness of breath such as chronic obstructive pulmonary disease (COPD), interstitial pulmonary fibrosis, bronchiectasis, asthma and dysfunctional breathing disorders can be referred to our service.
For further information contact Keena Shavji, Specialist Respiratory Physiotherapist
[email protected]
or call 020 7404 6343.
Social Media
CHP on Instagram
Central Health Physiotherapy is now on Instagram! Follow us at
central_health
for photos, videos and to share our special moments.
OTHER NEWS
CHP help King's college students stay healthy during study
For two weeks in May, the Health & Wellbeing Team at King's College London held their event "Take Time Out". It involved a number of initiatives and activities to encourage students to break up their study sessions in order to improve their physical and psychological wellbeing. CHP were delighted to be asked to participate in the event, where Gemma offered physiotherapy and workstation advice – particularly relevant during periods of intensive studying – and Sarah encouraged students to take part in some of our own fun challenges! Why don't you consider a Health & Wellbeing day in your office. Call 020 7404 6343 for more information.
Workout at Work Day
On Friday 12th June, Central Health Physiotherapy joined many other Physiotherapists around the UK in a national drive to promote the importance of being more physically active during the working day and also keeping fit for work. At our Chancery Lane and Farringdon Clinics we ran Pilates and HIIT
classes. All classes were well attended and fun-filled. With an outside temperature of 25 degrees on the day along with the intensity of the HIIT Classes, it didn't take long for everyone to be breaking into a sweat! We were pleased to see so much positive involvement and support from the public in spreading the message for more people to be more active at work.
Legal Walk
June saw us offer our services once again at the Legal Walk run by London Legal Support Trust (LLST). The event has grown year on year and there were over 9000 entrants this year which kept us busy with post race massages. The £5 charged for each massage was donated to the LLST fund. We also ran 2 competitions from which 2 of the lucky runners won free massages with our in house massage therapist. We look forward to helping out again next year!
From @llst_Natalia
Final Prep being done! Can't wait to see @CentralHealth giving massages + physio advice at the
@londonlegal #legalwalk street party!
GBR Triathlete, Vicky Frosdick's European Championships
On Sunday 24th May our Orthopaedic Physiotherapist, Vicky, once again donned her GB triathlon suit to race in Rimini, Italy at the 2015 European Middle Distance Triathlon Championships. This is the second time Vicky has represented her age group in a European race and she was keen to build on her experience from racing in Majorca last year. Vicky's early morning swimming training in the pool with colleague and swim coach Diane Daly seemed to pay off coming out of the 1.9km choppy sea swim in 12th place in her age group. After facing the hilly 56km bike in rain, and running a half marathon in full sun, Vicky finished 16th. She said 'It was such a tough race particularly the swim and the second half of the run. It was an amazing experience racing in Italy, and I'm so pleased to have improved on last year's placing'.
CHARITY – Leukaemia & Lymphoma research
Lucy and Jack Rix felt they needed a challenge in their first year of
marriage so they reached for the Lycra and padded shorts and competed in the Blenheim Palace triathlon on14th June 2015. They raised over £2,000 for Leukaemia & Lymphoma Research, for which they won a cup for being Top Fundraiser presented by Holby City stars.Set in the historic beautiful Blenheim Palace the event was seamlessly organised. They both finished in good times with Jack at 1hr 30 (98th out of 384 men) and Lucy in 1hr 39:30 coming 52nd out of 239 women.
Further fundraising for Leukaemia & Lymphoma Research continues as
Natasha, pictured here with her brother, completed the Prudential Ride 100 in the Surrey Hills on 2nd August in memory of her late father. Her fundraising website is: 
www.justgiving.com/Natasha-Price5
.
Her team, including two of her brothers, have now raised almost £12,000 so far.
NEW PEOPLE
Harinee Ohri
Harinee started working for Central Health Physiotherapy at the Chancery Lane and
Chelsea clinics in June 2015. She joins us from Kings College Hospital London. She has
experience of working in an A & E department and managing orthopaedic hand
conditions along with TMJ pathologies. Harinee has a special interest in sports injuries, worked in the London 2012 Olympics and covers weekend rugby matches . She is currently pursuing a Masters in sports and exercise medicine.
Iain Weavers
Iain joins the Central Health team at Highgate and the Hospital of St John and St Elizabeth this summer from BMI Healthcare. He is an experienced musculoskeletal physiotherapist with both NHS and private experience in a variety of areas. Iain also has a particular interest in sports injuries and currently works for Tottenham Hotspur Academy and at athletics competitions for Enfield and Haringey Athletics Club.
Jo Purdy
Jo brings her expertise to the fantastic CHP neurology team at the Hospital of St John & St Elizabeth and St John's Wood. She has specialised in Stroke and Neurology since 2001, working with a wide variety of patients across the NHS within acute, rehabilitation, community and outpatients settings.
Jamie Lee
Jamie is one of the new musculoskeletal physiotherapists here at Central Health Physiotherapy. He studied and qualified in his local area of East London in 2006. Since then Jamie has worked for many years in several different large NHS trusts as well as private clinics. His interests are in upper and lower limb and shoulder rehabilitation and sports injuries and injury prevention. Outside of work Jamie enjoys football, the gym, cycling and camping.
THANK YOU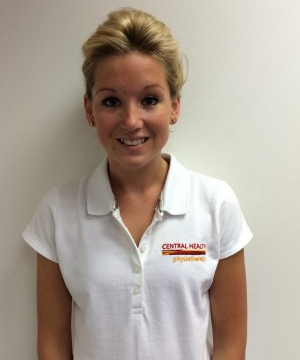 A big thank you to our Physiotherapist, Abby McKenzie, who is moving on to an exciting job in the NHS. Abby has been a great asset to The Hospital of St John & St Elizabeth inpatient team, and regularly took Pilates classes at Chancery Lane. Good luck in your future career from us all!
Thank you also to our massage therapist Henry St Clair who recently left the Chancery Lane practice to pursue his new ballet business venture. All the very best from all the staff.
From @balletmassage
paragraph
It's the end of an era – my last day working for the brilliant folk @CentralHealth thank you so much guys, I've loved it! #massage
CONGRATULATIONS
Congratulations to Chris Pinches on the arrival of gorgeous baby Olivia. He said, 'Life has certainly changed since the arrival of Olivia three months ago. Very rewarding of course but I certainly have a new found empathy for my patients who come in looking bleary eyed after a poor night's sleep. Thankfully Olivia has been quite good with this (most of the time) and I haven't found it too difficult.'